In the age of information, it can be challenging to compete with others since everyone is employing similar SEO strategies for organic traffic.
You must stay ahead of the curve and follow the latest trends to influence SEO in your favor. Let's look at top SEO trends for 2021, without which your marketing strategy is incomplete.
Why Should Your Business Take SEO Seriously?
As SEO keeps getting more sophisticated, more and more businesses are employing a combination of strategies and techniques just to get in front of SERPs. The power of SEO cannot be understated.  In fact, a recent study by BrightEdge shows that organic search is the largest driver of Web traffic for most industries and a crucial component of revenue.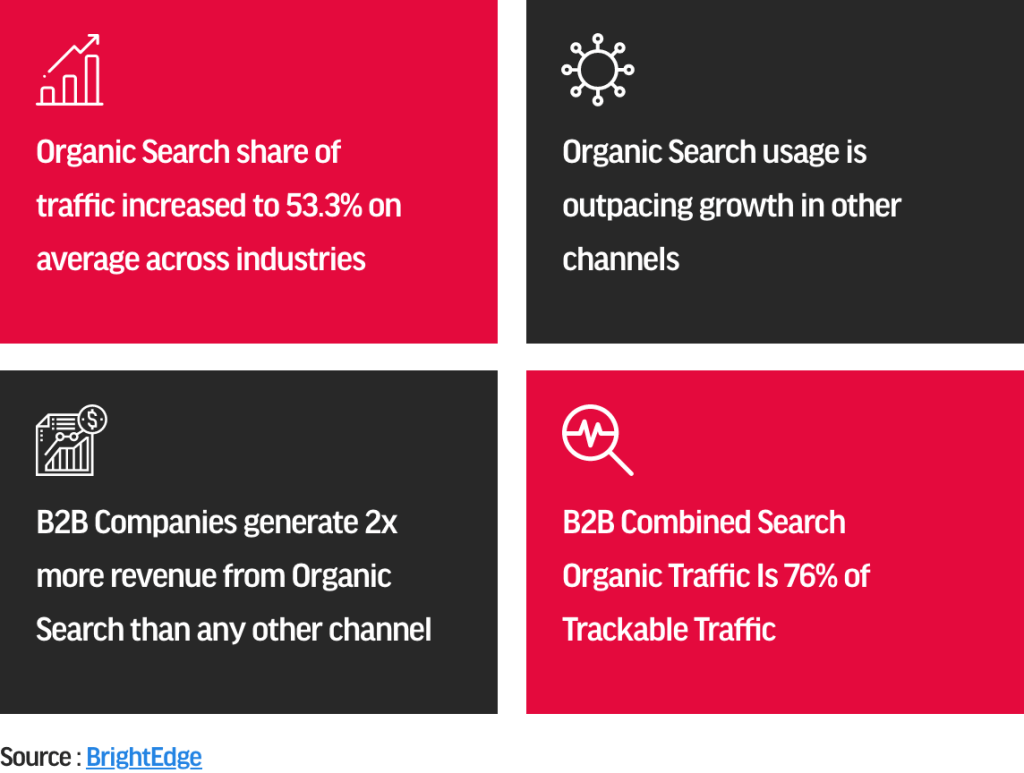 So, what could significantly affect your search engine ranking in 2021? Here, we will explore the top trends and shifts that may be crucial for your SEO success this year.
Search Intent Is More Important Than Keywords
You know what they say knowledge is power well… in this case, knowledge is food, food for, let's say, Google's RankBrain AI. Unveiled a few years back, and although still an infant, it's all set to grow into a monster this year.
The algorithm aims to accurately determine a user's intent when they search for something. It will measure user interaction with results. Based on their satisfaction, it will try to understand what a user is looking for. This has the potential to rank pages dynamically given user satisfaction.
So, the big question remains: How do you optimize your SEO for RankBrain? While Google doesn't share details, experts believe that user experience is the primary determinant. The ultimate goal of RankBrain is to provide users with useful and relevant results. If you share this same goal, you're more likely to get the results that you're looking for.
Content That Meets Google E.A.T Criteria Will Rank Higher
Expertise, authoritativeness, and trustworthiness. No, this is not the mantra of a brand, but rather metrics mentioned by Google as important when it ranks and judges any piece of online content.
So, if you want to build your brand, you must make sure that you have the expertise and exhibit it, are an authority in the niche and can be trusted (which means your claims aren't baseless).
The following screenshot is taken directly from the latest version of Google Search Quality Evaluator Guidelines. The quality evaluators need to review not only a website's E-A-T but also the content creators' E-A-T.

If your content fulfils these criteria, Google will rank it higher.
Videos Are the Way Forward
Content is still king. While written content retains its importance, the fact that visual content always attracts more eyes is unmistakable. Google realizes this and will award video content accordingly.
If video content isn't part of your SEO strategy, now is the time to add it. Still not convinced?
Here's an interesting fact: according to Cisco, video content will make up 78 percent of all global mobile data traffic by the year 2021.
With this in mind, you need to think about how you can optimize video content to improve your SEO this year. If you're a content creator on YouTube, it will become imperative for you to optimize your channel for over 2 billion active monthly users.
Featured Snippets Will Become More Popular
Answer boxes, knowledge graphs, carousels, and rich snippets will eat up a major chunk of organic traffic in 2021. Featured Snippets, which were rolled out in 2017, are a sort of shortcut to gaining exposure in SERPs.  When you type something into Google, you may see a box at the top of the results page, above the organic results. That's a snippet.
There are also rich snippets (also known as "rich results", these may include recipes, reviews, product prices, and similar bits of information.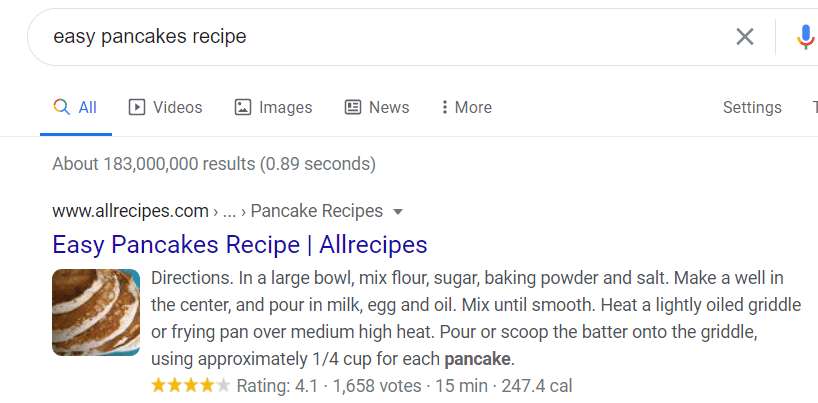 To create snippets, focus on question-based queries and relevant keywords. You can use the Google search function "people also ask" to find new opportunities.
Visual Search Will Play a Bigger Role in SEO
The way shoppers search for products online is changing—especially for younger consumers.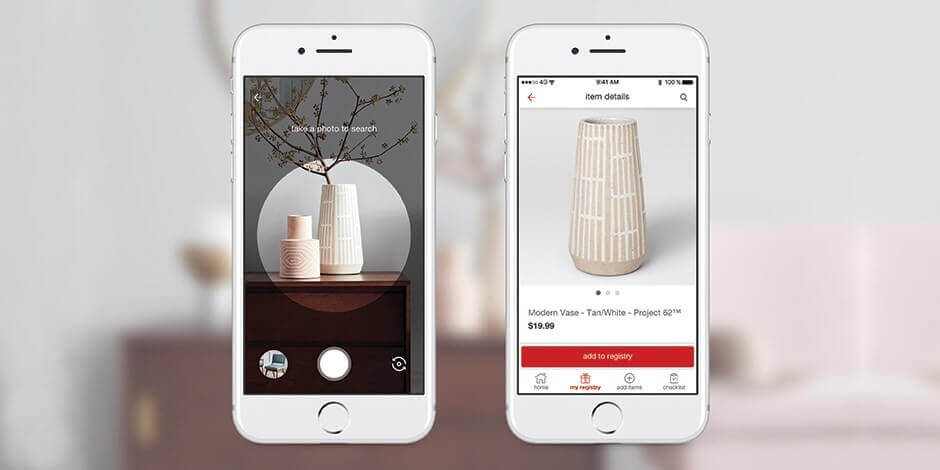 Visual search is an artificial intelligence technology that allows consumers to conduct an internet search using an image rather than text.
This technology is expected to have a huge impact on eCommerce marketing, not only by revolutionizing the way customers shop for visual products online but also for the way it will improve customer experience.
A picture is worth a thousand words. That is why visual search is so powerful, and why the world's biggest brands are already investing in it.
Mobile Users Have Already Surpassed Desktop Users
Mobile-first indexing has been super important in SEO lately, as Google continues to make the web more mobile-friendly and reflect user behavior trends.  In fact, Google is now prioritizing the mobile version of a website, considering it the "primary" version instead of the desktop version. This shouldn't come as a surprise, given that nearly 73% of internet users will access the internet solely via mobile devices by 2025.
So, if your users are facing difficulties using your website on their mobile, they won't think twice before pressing the back button and moving to your competitors.
Consider factors like responsive designs, site speed, and schema for a good mobile experience.  If you're unsure whether your site is mobile-friendly, you can use Google's mobile-friendly testing tool to find out.
Longer Content Will Get Higher Search Rankings
According to SEMrush's State of Content Marketing Report, long reads of 3,000-plus words get three times more traffic and four times more shares. They also achieve 3.5 times more backlinks than articles of an average length of 901 to 1,200 words.
But here's something you should probably know:
Google doesn't determine a page's ranking by simply looking at its word count. While content length clearly leads to better search rankings, the factor that actually helps Google to rank pages is high-quality content. That said, your content must maintain quality. The goal is to ultimately provide users with useful information that keeps them engaged.
How do you achieve this? First, you can use H2 and H3 headings to subdivide your content and make it more scannable. Subheadings provide a great way to expand your content, without worrying about clear transitions between the sections. Second, you should get links from reputable sites to help establish your business as a trustworthy source that search engines will be happy to rank. Finally, ensure your content is sharable by including obvious sharing buttons that are easy to spot.
Conclusion
The online landscape of SEO keeps changing as search engines and users wise up. With the advancement in technology and the changing user behavior, we will experience major SEO updates and trends that will dominate 2021 and beyond.
The main tips are to optimize for mobile, produce high-quality content, and prepare for the growing role of visual search.  Following these SEO trends for 2021 will ensure that you do not get lost in the pack.
Wishing you great SEO results this year!
If you need help in dominating your industry online, get in touch with our SEO experts who are ready to set up and monitor a customized SEO plan for your business.
You May
Also Like .