The selection of Chain Reaction as Baidu's first and only MENA partner gives Middle Eastern businesses the opportunity to strategically market their products or services to the growing Chinese market; through advanced search engine marketing (SEM), display, and video advertising.
Dubai, UAE (PRWEB) April 08, 2015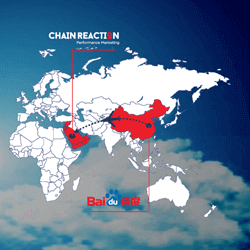 Chain Reaction, the Middle East's leading digital performance marketing agency, now offers clients unparalleled access to the Chinese market through a partnership with Baidu – China's leading search engine. Chain Reaction, an SEO company, was appointed as the first and only MENA-region Baidu partner. This was in order to offer Middle Eastern businesses access to a suite of online products. This will increase their visibility and sales in the Chinese market.
China's economy is the largest and one of the fastest-growing in the world. It also presents unique growth opportunities to Middle Eastern businesses. The tourism sector in the GCC is flourishing. More Chinese tourists travel abroad to the Middle East each year. Dubai in particular has skyrocketed in popularity among Chinese tourists – who ranked it the third-most desirable travel destination after Australia and France. According to a recent report by Oxford Economics, Chinese visitors to the UAE alone are expected to increase by 98% by 2023; when they are projected to spend $781 million annually.
One-third of the $155 billion tourists will spend in 2015 will go towards high-priced items like luxury fashion and jewelry – which represent 50% of the GCC's retail market. 57.8% of total spending by Chinese tourists abroad is allocated only for shopping. The rest represents accommodations, food, and entertainment. MENA businesses can harness the unparalleled purchasing power of Chinese travelers; this can be done with search engine marketing. As well as search engine optimization through Baidu – which receives 22 million travel queries every day.
The importance of the Chinese market to the GCC market is difficult to overstate. Trade and investment between the bloc and China is growing exponentially. Industries like real estate development, hospitality, luxury brands, and tourism are presented with an opportunity to experience record growth. Chain Reaction's expert Baidu team and their partners – who work on-the-ground in China – know exactly how to market a company's product. Also, service directly to prospective customers using attention-grabbing ad copy in perfect Chinese; with skillfully-targeted campaigns that are created to engage and inspire a specific audience.
"Working with an agency that has the specialized expertise necessary to manage effective campaigns in China. Especially with China's unique and complex digital space is the first critical step for businesses considering Baidu," explains Chain Reaction Managing Director Saif Jarad. "Chain Reaction was appointed as Baidu's first and only MENA partner. This was due to our team's nuanced understanding of the market and Baidu's distinct characteristics."
Chain Reaction's strategic partnership with Baidu allows for a mutually-beneficial arrangement for both businesses and Chinese-language consumers. Chain Reaction can provide a detailed analysis of how companies can use Baidu; specifically to dramatically increase their visibility and sales in the Chinese market. Furthermore, Chain Reaction is now offering a personalized consultation to businesses free of charge.
You May
Also Like .