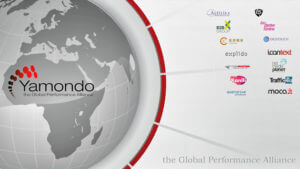 Chain Reaction, along with its international partner network of 14 noted online performance marketing firms met in Beijing, China to discuss global strategies and case studies in performance marketing and related disciplines, such as online performance marketing strategies, tracking ROI for online media campaigns, Baidu "China's Largest Search Engine" advertising, & social media marketing.
The alliance covers the world's most important markets and exemplifies a dynamic breed of resilient trend setting companies who have managed more than 3000 cross national campaigns in more than 50 countries worldwide.
"In the last three years, we have been actively covering the MENA region within the Global Alliance; Chain Reaction leverages its strategic partners' networks to bring cutting edge performance marketing solutions to its regional and global clients" said Saif Jarad, Founder and Managing Director of Chain Reaction. "Throughout this meeting, we have been able to share some of our winning case studies and distinctive approach in managing performance-based online marketing campaigns for market leaders such as Mobily telecom & Etisalat telecom"
Furthermore, the third day of the meeting was dedicated to showcase the alliance's capabilities to service Chinese businesses abroad and to present global business marketing opportunities for the companies through leveraging the alliance's knowledge and resources. Chain Reaction was featured on a panel to discuss the issues Chinese firms need to consider when marketing in the Middle East region.
Chain reaction has also won exclusive rights for the representation of companies in MENA who intend to market in China, through Baidu – the number one search engine in China.
Chain Reaction is a regional digital company, focused primarily on SEO, SEM and Mobile Marketing. The company has been established since the inception of the sector and has been a pioneer in setting trends and enabling clients to reach maximum exposure and an exceptional marketing potential through the design and drafting of online marketing strategies and campaigns.
With offices in Dubai, Amman, Abu Dhabi and Saudi Arabia, we are expanding our outreach, broadening our specialization of creative services to bring you more powerful results.
You May
Also Like .