Let's find out!
Reels are short-form videos on Instagram – much like the engaging short-form clips on Vine and TikTok. These short videos are usually 15 to 30 seconds long, and you can add your custom audio, filters, effects, texts, etc. to jazz them up. Reels appear on the discovery feed of Instagram. making your content more accessible for the rest of the world.
With these tools, social media users and companies can create clip-based video content that engages viewers and is quicker and easier to consume than long-form video content. 
As reels continued to gain popularity, various brands jumped on the bandwagon to make the most of them. Many leading brands have started using reels to market their products creatively. This includes big names like Louis Vuitton and Sephora, to name a few.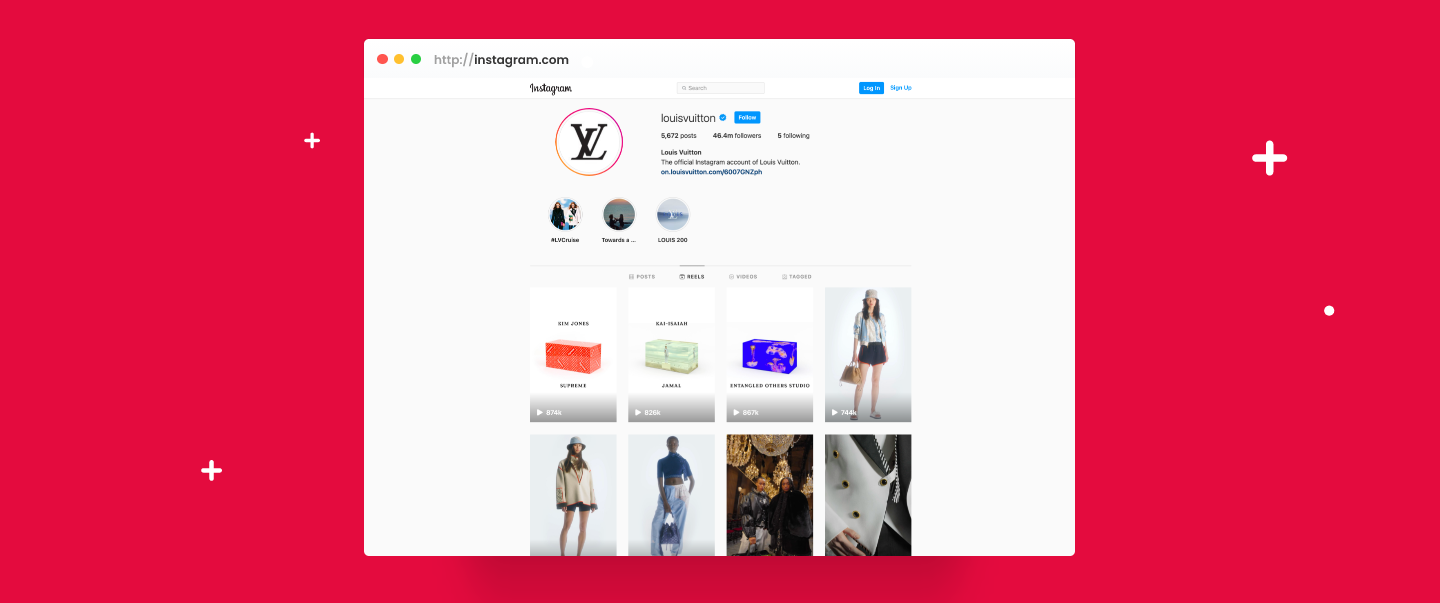 But what's all the fuss about with Instagram Reels?
Reels have given a new opportunity to brands to maximize exposure and reach out to larger audiences through viral content. Not only that, but Instagram Reels garner higher engagement rates and better content visibility, making them an excellent choice for creating brand awareness and affinity. Consumers now expect authentic content from brands, and content like this can humanize your brand and help you to form meaningful connections with your target audience.
You no longer need fancy lighting and equipment for video production.  Just another great advantage of using reels is that it helps brands save video production costs compared to long-form video content. You can experiment with music, visual effects, and customized branded filters to create a much more engaging and fun viewing experience for your targeted audience
Instagram is also bringing shopping to Reels. Brands can now collaborate with creators to market shoppable content creatively. You can use Reels to create excitement around your products. For example, let your audience see who you are and who your brand is through a behind-the-scenes Reel.
You should also integrate your website or online store's link and increase conversions and sales. You can even measure and track reels performance through Instagram insights and optimize your content accordingly.
What does this mean for the video production Industry?
While reels worked in favor of brands and Instagram influencers, the video production Industry has been greatly affected by reels and similar short-form video features. As content consumption of reels increased, the audience's attention span decreased drastically.
Where short form video content used to be 2 minutes long, it has now come down to 15 seconds. And long-form videos are down to 2-3 minutes. This limits the creativity of video makers and forces them to showcase their talent in just a small duration.
Still, Reels makes it clear that this short-form content is powerful and when used in a well-thought manner, has the ability not only to entertain but also to evoke emotions, tell stories, and convey complex messages even within just seconds.
Showing what is possible in a span of 60 seconds or less, raises the bar for the video production industry for sure.
Let's put that aside and talk Instagram
Reels for marketing.
Is it even worth pursuing for brands?

Got an average of 2m views on Reel Videos

Got an average of 626 views on Normal Videos
Reels will give you the opportunity to be discovered by a wider community and increase your reach globally. With vast amounts of audiences and multiple generations engaging with Reels, it has been a marketer's dream.
Now is the right time for marketers to incorporate reels in their content strategies, making full use of this opportunity while they can.
Whereas the video creation industry is concerned, they need to reach a middle ground and start working with reels and other long-form videos if they still wish to be part of the digital game.
What Further Developments Can Be Expected To Occur In The Video Marketing Landscape?
Reel Stories are one of the most recent developments in the video making sector, inspired partially by TikTok and the popularity of this video-focused social media platform. TikTok currently has over 1 billion users, so it's understandable that Instagram would emulate its style of content in its Reel Stories
Moving forward, other upcoming developments that could affect the video marketing and creation industries are going to be driven by new technology, such as virtual reality, artificial intelligence and more.
As such, businesses need to keep adapting and reviewing the latest trends in the video marketing sector and adapting accordingly.
You May
Also Like .