Social media took the world by storm ever since its inception, with a whopping 2.8 billion users worldwide! What started with wall-to-wall conversations on Facebook has now evolved into vibrant pictures on Instagram, 30-second stories on Snapchat, and now the craze of short, creative videos on TikTok.
Keeping in line with the trends, another social media app has now surfaced in the market, tickling the fancy of social media enthusiasts. After pictures, videos, and tweets, now you get access to voices! Amazing, right?
Elon Musk is all set to interview Kanye West on this app, heartthrob Ashton Kutcher has been a silent spectator in random audiences, and even the likes of Oprah, Kevin Hart, and Drake were present in one of the rooms – what is this app after all?
What Is Clubhouse?
This newbie is called the Clubhouse App, a rather interesting name with an equally appealing format. But before that, let us blow your mind away with how quickly this trend is catching on.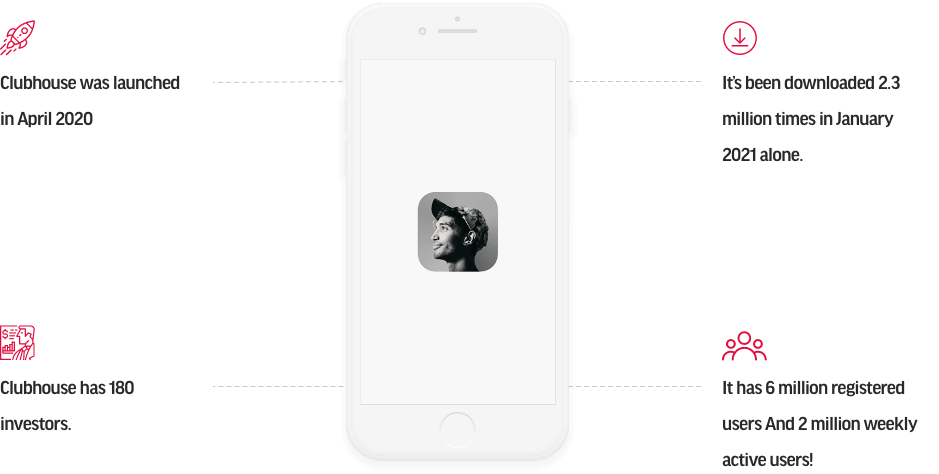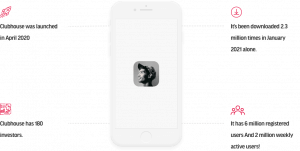 Who Is on The App?
The invite-only Clubhouse App launched in April 2020 and has already had 5.5 million downloads around the globe. It has even captured the fancy of bigshot players like Elon Musk and Facebook Inc.
For the uninitiated, this is a brand-new concept that seemingly makes no sense at all! Let us guide you on what this app is all about. Clubhouse creates a space that allows users to meet up to host, listen to, and even form 'clubs' to talk about topics of interest! Clubhouse is the brainchild of Paul Davison, Silicon Valley entrepreneur, and Rohan Seth, a former Google employee. This app's selling point is audio-chat, ideal for all social media warriors who love to voice their opinion, literally!
The app allows you to listen to conversations with anyone you like – not just your friends or colleagues, but celebrities, influencers, and thinkers too! This concept is decidedly unique, even outdoing the high creative expectations from social media. We, for one, are psyched! But we're not alone; our favorite celebs are catching on to this burgeoning trend too.


Clubhouse Is Becoming Increasingly Popular
Vogue best describes this app as "a dizzying bringing together of live podcast-style conversations, panel discussions, networking opportunities (some savvy people are already swapping 'influencer' for 'moderator') and advantageous multiple-room use (locked and private options are available so you can talk to pals), the social-media app mimics real-life interactions."
With only profile pictures of participants visible, you can enhance your knowledge or share your opinion on any given topic using just your voice. This education, awareness, and voice amalgamated with the innovation and convenience of social media make it the app of the decade. Act as a listener, moderator, or speaker to spend quarantine boosting your knowledge on an array of topics!
The app does what we needed most in this world of silent users plastered to their phone screens – gives people a voice to talk about important topics, nurture interpersonal relations, lend their brands a voice, and much, much more!
We stand by the raving reviews this app has garnered but will the social media user be able to handle this power to voice their opinion? We'll have to see (or rather, hear) to find out!
You May
Also Like .