Introduction
The events of the past two years have had a significant impact on the way brands will use social media to effectively engage their audiences in 2022.
Consumers have always been in charge of determining your brand's worth,but the pandemic accelerated their takeover, putting them firmly in charge of 2022 and beyond.
With that in mind, we've put together 4 social media trends to keep an eye on in the coming year to ensure your plans stay on the right track.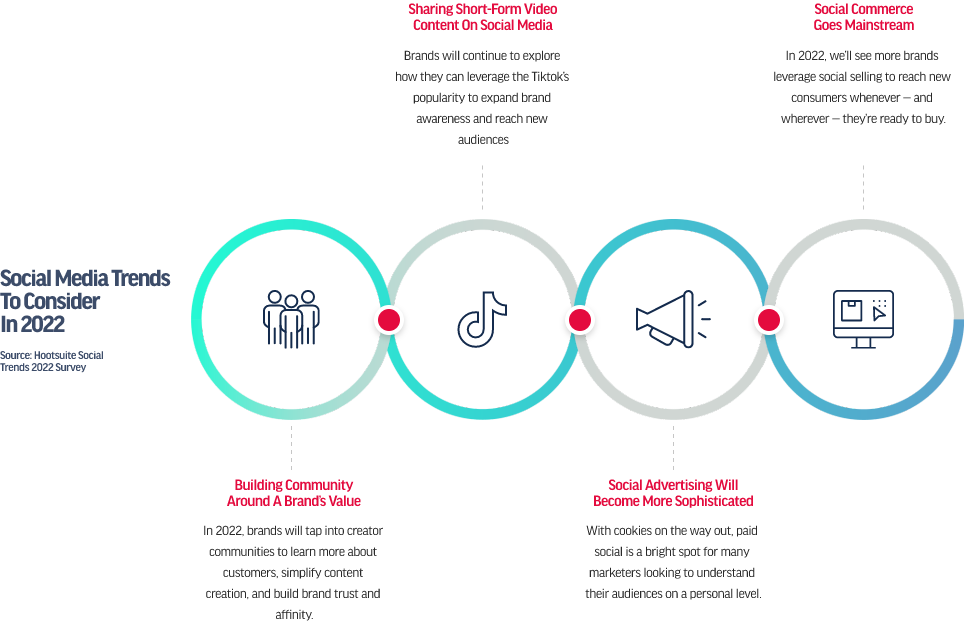 The Rise of Nano & Micro Influencers
Digital communities have never been more diverse, vibrant, or influential in our everyday lives than they are now. And there's no better place to build — and cater to — these groups than on social media.
Brands that collaborate strategically with creators are engaging with new audiences, winning their trust, and gaining cultural capital as the tide on social media turns away from glitzy mega-influencers toward smaller, more authentic groups.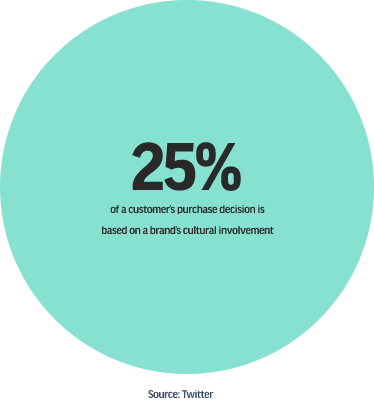 Consumer expectations of influencer marketing have shifted dramatically. In 2022, it will no longer be sufficient to simply collaborate with a celebrity influencer to advertise your product.
As ExpertVoice Consumer Trust Panel report shows, only 4% of consumers say that celebrity recommendations alone will influence them to make a purchase.
Instead, most consumers trust influencer content that:
Showcases the brand's value.
Shows the brand's products or services in action.
Explains how to get the most use out of the brand's offerings.
The report explains that "having honest, personable, and educated individuals making recommendations based on actual experience with the product is a key differentiator in determining whether they would trust a recommendation."
As such, brands are increasingly turning to micro-influencers (10k-100k followers), who outperform their "more popular" counterparts with greater engagement rates, more loyal followers, and lower costs.
What this means for marketers: Whatever your niche, you need to tap into creator communities to build long-term customer relationships, simplify content creation and build brand awareness and affinity.
TikTok will dominate the social media sphere (??!)
Short-form video has recently been added to all social media platforms: Facebook Reels, Instagram Reels, YouTube Shorts, Pinterest Idea Pins… LinkedIn is also said to be considering introducing short-form video to its site.
So, where is the spark for all this innovation coming from? It's being led by TikTok.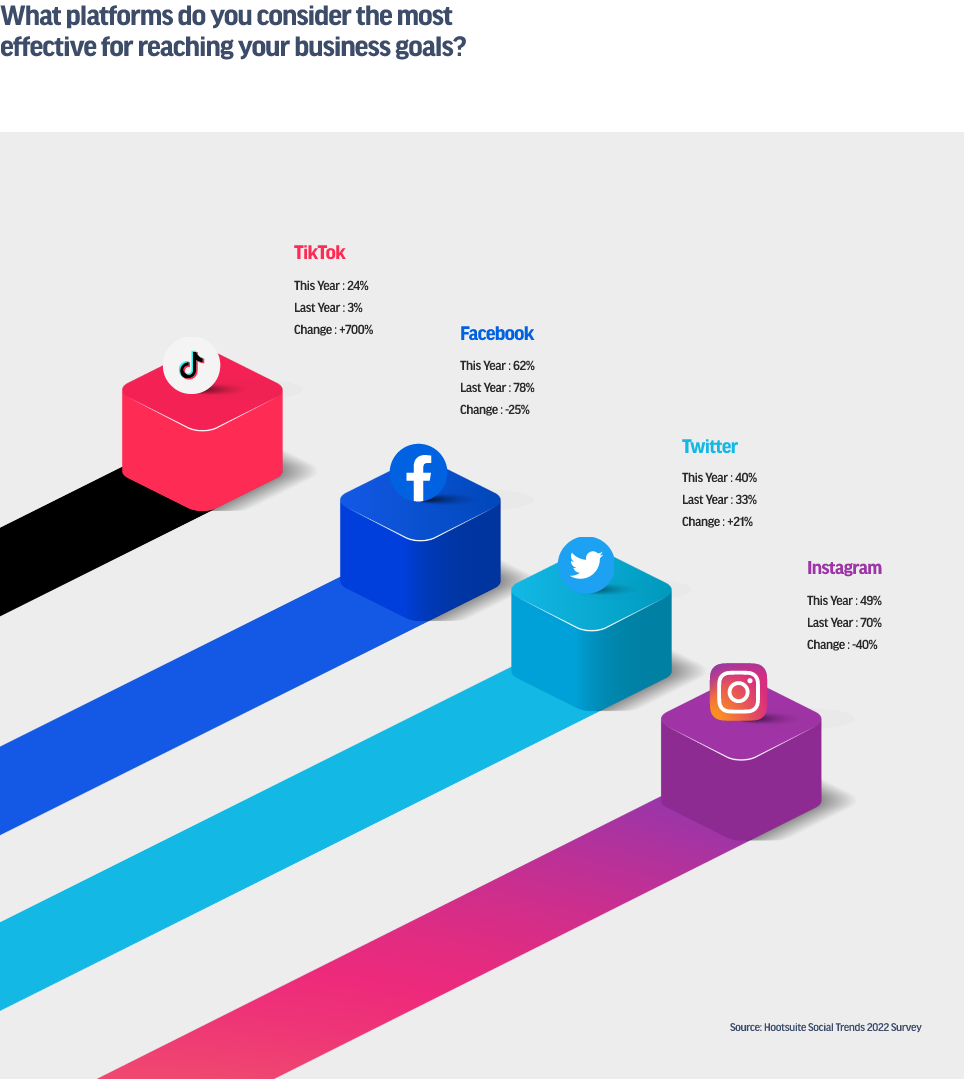 Our social media team at Chain Reaction has constantly seen that short-form videos are our client's top-performing organic and paid ad – especially the ones that feel more authentic and don't look like a typical ad. And there's a reason for that.
After a year in which millions of people went into lockdown, consumer appetite for entertaining, engaging content online has become insatiable .We have found ourselves with more free time and less positive content surrounding us. This has led many people to turn to social media to keep themselves entertained.
But it wasn't simply the quantity of content that changed; it was also the nature of the content that people were flocking to on social media.
TikTok's unique video format allows creators to express themselves, resulting in a closer and more trustworthy interaction between them and their followers. TikTok now has its own 'Creator Marketplace,' where marketers can evaluate their statistics and demographics to identify the perfect creators to collaborate with.
What this means for marketers: Snackable content continues to grow as more people scroll endlessly through their feeds every second. Marketers who understand this and develop a tone of voice that suits the platform will reach a global audience. However, it's critical for brands to ensure that all video and reels content add value to their audience and are strategically tied back into their offerings.
Remember, hopping on random trends without creating content that aligns with your overall marketing objectives won't take you anywhere.
Social advertising will become more sophisticated
As Google plans to phase out cookie tracking by 2023, you'll begin to see third party cookies completely gone by the end of the year — which means many marketers will need to adjust their strategies as social advertising evolves.
Luckily, there are many effective ways that marketers can leverage without third-party cookies. To name a few: User generated content, targeted and personalised ads across social media networks, and retargeting campaigns.
In fact, this might actually be an exciting opportunity for marketers to develop data-driven strategies using metrics to understand users' interests and preferences on a deeper and more personal level.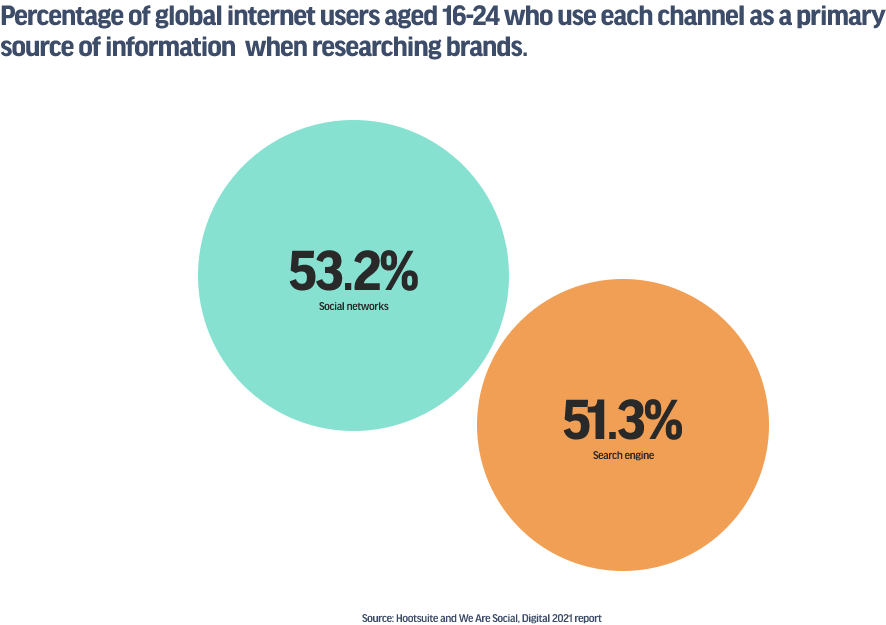 Social commerce allows users to make a purchase on social media platforms without switching channels.
What this means for marketers: Social commerce won't replace e-commerce anytime soon.However, researching the user behavior of your existing and potential customers on these networks can help you gain insights into their attitudes and behaviors for the experience. Use this data to shape your omnichannel strategy.
Hootsuite's Social Media Trends 2022 Report offers valuable insights into what brands and marketers should consider as we wrap up 2021 and welcome the new year.
You May
Also Like .