The Difference Between On-Page and Off-Page SEO Explained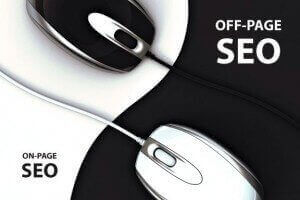 Businesses are often misguided when it comes to search engine optimization. The simple reason for this is that certain firms value techniques that optimize elements that exist just on a website or those off of it.
Without the proper mix of on-page and off-page SEO, reaching the search engine result rankings that you want can be more costly and require extra effort.
On-page SEO is just like it sounds. It is the optimization of elements that are located on a website.
Some of the common actions performed that fall under the umbrella of on-page SEO work include:
Changing .the title of a page to make it more appealing to visitors and search engines.

Optimizing keyword saturation in written content.

Interlinking pages located on a website so that search engines and visitors can get a better idea of what pages are about and navigate more easily
These elements are usually tuned up and tweaked to allow search engines to naturally give a website a better ability to rank within search engine results.
Off-page SEO is the opposite of on-page SEO. Instead of tackling elements that are located on a website, off-page optimization deals with building up the external amount of links pointing back to a website.
Some of the common activities involved with off-page SEO include:
Submission to local and global website directories.

The creation of web 2.0 properties that link back to your website.

Guest post submission to blogs related to your website's main keyword.

Commenting on blogs for links pointing back to your website.
The main purpose of off-page SEO is to give your website the appearance of authority in the eyes of search engines
Does Your Business Need On-Page or Off-Page SEO?
It's usually unclear as to which type of search engine optimization your business needs. On-page and off-page SEO both present different ways of helping your website rank as high in search results as you want.
The best strategy will include mixing on-page and off-page SEO together in just the right amounts, because they complement each other. To get an idea of how this works and why, contact Chain Reaction. They are an experienced and trustworthy SEO company that works smarter to create the most efficient SEO possible.
You May
Also Like .